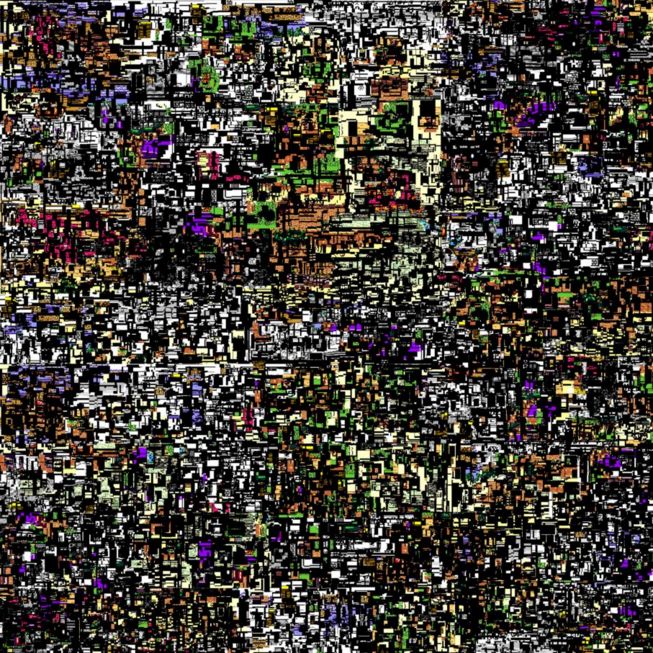 Spore Spawn - Eat Bit
2013/11/30 out
20 copies
800yen
http://attenuationcircuit.wix.com/attenuation-circuit#!__rollator-4
http://emerge.bandcamp.com/album/eat-bit
Uncompromising noise in various guises, from unrelentingly harsh to meditative or the other way round. The minimal
pulsing of a buzzer set against a backdrop of hiss in the opening track can make you drift away like the lushest of
ambient music, while the fierce materiality of "Four AA Batteries Massacre" hits you square in the face. But after
the initial shock, the near-white noise becomes almost soothing: This is sound that doesn't care about feelings, humans,
nature, the earth. This is static from outer space, and whatever your problem is: This sound exists completely
independent from all of that.
Japanese "harsh noise gamer" Spore Spawn impressively shows that even within the boundary of harsh noise, quite a
variety of angles and nuances can be explored. Spore Spawn describes his instruments as "Noise, Voice, Game, Beer",
and the same materialism is at work in "Four AA Batteries Massacre" when we actually hear the batteries being
inserted and taken out of his sound devices. With this seemingly blunt gesture, this sound really goes where noise is
supposed to go: to the outer realms of the audible, where noise becomes silence (when you take out the batteries!)
and physics becomes metaphysics (or vice versa). Therefore, this is really great extreme music because it is all about
sound, with none of the 'extremist' gestures and images that all-too-often serve to inforce cliched ideas of
transgression in the noise field.
エキサイト翻訳より
様々な外観中の、緩まず荒いことから瞑想のことまで、あるいは反対に妥協しない雑音。
開始トラックでしっの背景に対してセットされたブザーの最小のパルシングは、環境音楽の最も豊富なもののようにあなたを漂流させることができます。その一方で「4つの単3電池大虐殺」の猛烈な物質性はあなたを叩かせています、顔の中の正方形。
しかし、初震の後、近い白色雑音はほとんどなだめるようになります:
感情、人間、自然、地球に関心がないこれは正常です。
これは宇宙およびあなたのあらゆる問題から静的です:
この音は完全に存在します、そのすべてから独立した
日本の「厳しい雑音ゲーマー」胞子卵は、荒い雑音の境界内ではさえ、極めて多種の角度およびニュアンスを調査することができることを印象深く示します。
胞子卵は彼の道具について記述します、として「ノイズ、音声、ゲーム、ビール。」また、私たちが実際にバッテリーが彼の正常な装置から挿入され得られるのを聞く場合、同じ唯物論は「4つの単3電池大虐殺」に働いています。
この外見は鈍い身振りで、雑音が行くことになっているところに、この音は実際に行きます:
聞こえるものの外部の領域へ、雑音が静寂(バッテリーを取り出す場合!)および物理学になる場所は、形而上学(あるいは逆に)になります。
したがって、雑音分野での違反についての内力の陳腐な考えにあまりにもしばしば貢献する「過激派」身振りおよびイメージのどれと共に、それが音にすべて関係しているので、これは実際に大きなエクストリーム・ミュージックではありません。
http://sporespawn.web.fc2.com/
attack.the.core.of.spore.spawn@gmail.com
Label
http://attenuationcircuit.wix.com/attenuation-circuit
http://emerge.bandcamp.com/